The Outlet

Welcome to the on-line Outlet at JJWebwise.
Here you can securely purchase any of our products or services.
Simply select the service or item you require and pay using your Credit or Debit card and pay securely through Pay Pal

Remember to click the "Buy Now" button at the end of your order details to process your payment to our Pay Pal Account.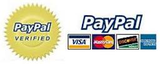 Please note in the interest of your security that JJWebwise does not have access to your credit card details at any time

E mail orders can be processed by sending an e mail to jjwebwise@eircom.net and including your mobile phone number where you can be contacted.